Promotion tips
Emotional
Personal
Touching
Sensitive
Secret
Positive
Emotional Advertising! Get this product, and you You can keep your emotion with you.
It is like you know something, what you know you cant explain, but you can feel it all the time, it is like a splinter in your Mind.
Information amount we receive and "consump" today is really huge, it makes an attention span of the average human very short, and this makes the job of an advertiser very difficult. I beleive that the one and only thing that works faster and better than logic and analysis are emotions – deep, sensitive and so personal, you carry them with you everyday. It is like you know something, what you know you cant explain, but you can feel all the time, it is like a splinter in your Mind.
It is the feeling that pushes you to recognize and sort out an important information, out of trash that doesnt metter to you, it is so personal. You cant avoid it, because you can feel it when you go to work, when you go to church, when you pay your taxes. (Matrix).
In other words, there are emotional trigers that touches our emotional side, and says to us – get this product, and you will take this emotion with you. Lets take a deeper view on some examples.
Sell Emotion which refers to you product. Not a product by need. No one would by CocaCola just to fulfill thirst
My personal set of examples
The Barella spaghetti
The Barella spaghetti is therefore used to create an image of a firework, quite genius if you ask. Nothing better than wishing your consumers a happy new year, with the product they love.
Bayer Aspirin – Aspirin
Simple, clever message delivered by Bayer with Aspirin masterpiece. Connect foorball helmer and aspirin tab and you head is protected from pain by Aspirin.
Ricola – Make Sure Good News Sounds Like Good News
This is one of the most hilarious ads on the list. An ad for Ricola cough drops, it exploded a scenario where a guy coughs in between introducing a lady as his friend
"She's (cough) just a friend", the cough here might pass the wrong message that there is something the guy is hiding, when in actuality, it is a harmless cough. Take Ricola cough drops to avoid such a situation.
ABSOLUT – see between the lines
Our brain loves to connect invisible lines, some advertisers use it easily as base for perfect product promotions.
ARIAL – so clean
Ariel Bright White is a detergent that leaves white clothes sparkling clean, almost blinding.
ASICS – 2015 Los Angeles Marathon
During the sponsorship for LA Marathon in 2015, ASICS (shoemakers) created an ad with their shoe with all city below…
Taking in account that picture is fliped, it take a while to understand a message, this moment of understanding make this ad emotional from very beginning. I feel motivated to run now.
SANZER
What you really touch? Asks SANZER in their add. Poster were placed in subway stations to highlight public phonebooths buttons and escalete an importance need of SANTZER products.
Car safety
Social ads also can be well made, The back sear is no safer – BElt up. Well sold, clear message – well done.
NEW BMW M3
I love BMW adds, these guys love to touch your emotions, banenr or video in most cases well done with emotional boost for audience.
Here we have a pop culture figure from DC Comics. AS you know, BMW M3 was made for speedsters with caption – "A vehicle for real speed experts", so superhero Flash suites really good. But, keep in mind that using DC comics you point a very specific audience, possibly even age targeted audience.
Paris Champagne festival: Eiffel Tower
No comments needed – just give me a glass of champagne in Paris.
Chupa Chups – Ants
I love this one. So much attention to less sugar consumption. Sugar-free lollipops and sugar lovers, ants, avoid contacting
a candy… simply! No! Sugar!
The lover pop
No, it is not about heavy-weighting. It is Valentine day add.
Two sided lollipop was made just for Valentine's day.
New York Film academy
Where to be more creative….
Popcorn bowl filled to brim, but looks – it is not a popcorn it is scenario drafts, of the movie you gonna watch with a bowl filled with popcorn. Masterpiece!!! Definitely!
Coca-Cola Taste the Feeling!
Coca-Cola is my personal nr.1 in the world of selling emotions. And here is why, no text, no description… just feeling of opened bottle. Taste the feeling was made mainly for millenials, correlating different scenarios of love, friendship, having fun with bottle of Coca-cola.
Coca Cola
Sometimes, Coca-Cola adverts requires no comments.
End Ageism
San Francisco Department for Disability and Aging Services – End Ageism
Advertisement to end ageism, combined old eyes on five young faces.
Every mixed portrait had an attribute with statement that attribute never gets old.
Attributes are: courage, intelligence, creativity, leadership, and passion.
So true!
Dentists are important
Definitely masterpiece.
The first thing you notice is his smile.
No additional comments needed.
Pedigree – Adopt a dog ad
A dog makes your life happier. Adopt.
What i like most of this add, is that one of the leading pet food producers – Pedigree, made a huge step forward in multi-mission add here.
Mission 1: Adopt a dog – Social responsible.
Mission 2: Boost happiness for lonely people – Social responsible
Mission 3: indirect sales, Instead of selling their product with direct messages, they provoke emotions and increase a number of potential customers in long term. If someone's feeling was touched, and the person adopted a dog, most probably will feed with pedigree. Again – Masterpiece!
The Economist – Bring the light on!
I love interactive adverts. Billboards with light sensor, which is configured to sense when someone is approaching and will switch on when the person is under the bulb. Amazing idea!!! Bring the light!
Faber Castell – True colors.
Colored pencils of Faber Castell. Picture of the shark was wade 100% with pencils.
So realistic colors of Faber Castell.
Social Add from Bahia Government.
Perfect example to raise public awareness.
FORD – This city is in Your hands.
Ford Fusion was made for city drivers.
FORD – Camo
Perfect example of advertising campaign for new product.
In this case pre-collision assist feature, which helps to avoid accidents by detecting pedestrians.
Mainly presented as an on-bus advert. And btw, the red bus in the poster is also Ford. So .. double promotion detected.
Timotei – Lion Mane.
It was made for girls, you say. But when I look on the poster, I smile, do you?
I mean – It is not just about hair!! IT IS A LION!!! resting… with perfect hair.
can you feel the vibe? perfect.
Harley Davidson
Another masterpiece.
"Build Yours" ad from Harley Davidson where HD bike was deconstructed to form a portrait of people.
So, Harley Davidson bikes got faces… souls may be? But definitely every bike is unique as every rider.
Heinz Hot ketchup
French fry is burned just like a match.
BTW, did you know a big lie about french fries?
Well, originally there were Belge fries.
Heinz – no one grows ketchup like
A tomato flower on the bottle, referencing the ketchup as a plant that was grown with great care.
IKEA
Do you need space?
Or may be just a shoe cabinet? Problem solving add for pre-defined product segment.
IKEA with different meanings
As you know, buying in ikea means assembling by yourself. If you feel confused, Ikea assembly service is happy to help. VERY VERY simple puzzle – incorrectly assembled with message – if You have a problem to assemble it – Ikea is happy to help I like how it presented, especially as It sells one more attribute
"our furniture is simple to assemble as 4 pcs puzzle." But at the same time it has a small negative or educative effect, If you feel stupid that cant assemble 4 pcs puzzle. it is ok – we are glad to help.
Allstate insurance
Are you in good hands?
Insurance… clear message delivery.
Apple iPod Shuffle
Old but good…
Run with your music…
wire is a form of running path around Central park.
Naples
E. Marinella is an Italian necktie-making company headquartered in Naples, Italy.
Good coffee, good style… Italian made.
KFC – healty-looking burger
healthy-looking pile of vegetables is called "Clean Eating Burger."
For a moment, KFC pretended this publicity stunt was real. The prank went deep.
LEGO
Boost Your imagination.
Creative billboard from Lego.
UltraThin…
Some people don't shop online, as they need to feel or touch the product.
This ad, is a perfect example of providing a feeling of your new laptop, both – size…
and this like a paper…
Apple feel.
McDonalds again
This is just a perfect emotional sale ever.
Two billboards make 3m difference or decrease in range till McDonalds.
Can be read differently. You are so big that 3m metters.
Or that you are so hungry that every meter counts.
Tons of Fun!
McDonalds masterpiece.
I believe this one is simply the best stand alone emotional selling of all times.
ONE BIG LOVE> ONE BIG MAC LOVE> with their slogan I'm loving it.
Burger shaped in form of human lips, with absolue relish…
I'm loving it.
Mini Cooper
Halloween ad with huge success and tons of fun.
Combines a tiny friend tied up with kind of casper costume, but still it is your new car covered,
as it is brand new.
Nikon D700
A huge interactive light box was created in Seoul Subway Station, the entrance lead to electronics shopping mall. Walking by the ad, trigger a deluge of flashing camera lights. You as accidental superstars who follows the red carpet all the way out of the station and into a mall, to buy a NIkon.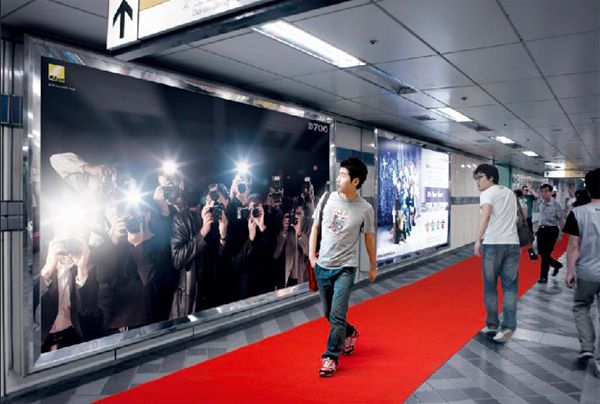 Nivea night.
Shape of the moon, to highlight a feeling of night sky and your creaming routine
Keloptic
Self-portrait of Vincent van Gogh, you sure you know how he looked like?
See more clearly for less…
simple and beautiful, clear artistic method to sell your services.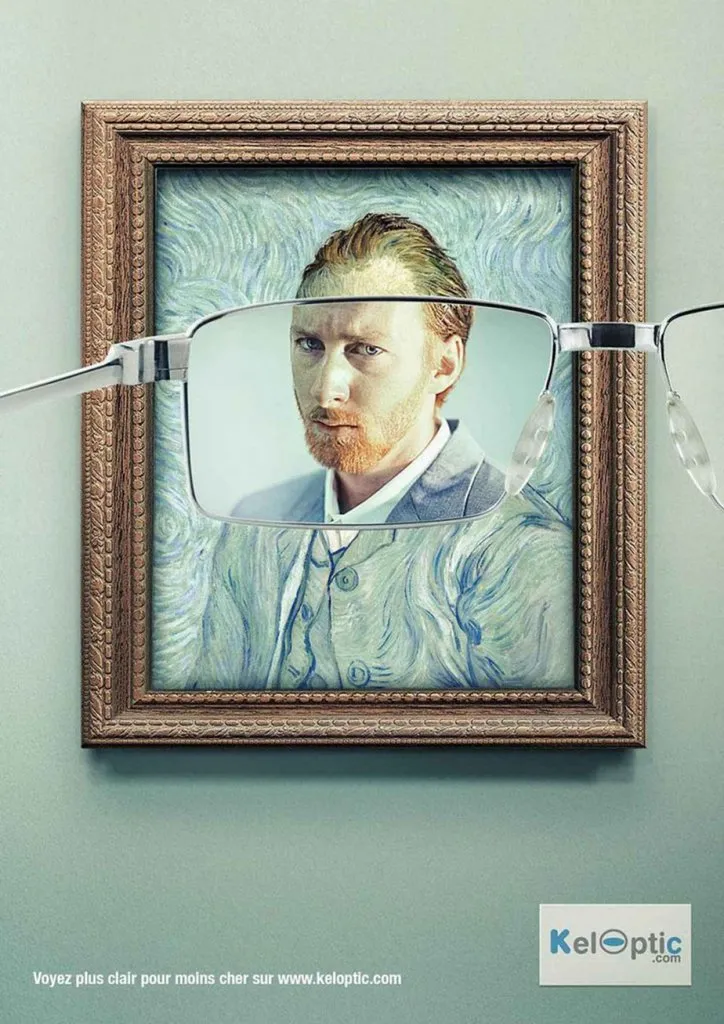 OREO
This ad gave me a feeling being a kid. Every cookie I ate went dipped with a milk. Same with you?
Emotional anchors can tell you – lets gen an OREO and try it with milk…again.
ORION telescopes
Moon closeups with telescope definitely can give you extra information and details.
Benjamin Moore paints.
perfect example of advertising … in perfect weather conditions.
Chevrolet AVEO – made of 20,000pennies.
20-foot interactive billboard from Chevrolet made up of one-pence coins in London. Ad consisted of 20,000 pennies, was designed to advertise 769.500 pence starting price of new Chevrolet Aveo. Come, grab a pennie while looking closer to AVEO and considering to get one.
Coca-Cola and PEPSI
No comments here.
We wish you a scary Halloween!
Social add – Korea.
Police is not very popular subject for advertising.
Korean billboard shows that police can protect, provide safety.
Beautifully made.
Australian post
Power of letters. SOcial media and emails are fine, but receiving a real letter is so warm…like a hug.
The message of the ad says "If you really want to touch someone, send them a letter."
Social responsibility
Rainforest
NO comments… just beautiful.
1993 – ???
Young drivers stay positive, not always fasten the seatbelts.
This Add was made in 2011, where children of 1993 turned 18 and got their driving licences.
In order to ensure that young people fasten their seat belts LG2 created a specific add, where
year of birth is seen, but the last year is hidden behind a seatbelt.
Social responsibility
Save the trees…
Message directly from animals
Touching.
Save water save life.
No additional comments needed. Clear visual message.
Tele2 empower
We Empower Small Businesses says Tele2, growing the potential of the small busioness
to a lion with Tele2 communication services
Emotion at right time and right place
Imagine another business trip, an aircraft, you put the small table down,
and you see a snowboard on your feets and your sitting on the top of the mountain.
Well… but im not snowboarder… I am a skier : ) oops… but thanks, I've got a message
Robbin Brothers
Fun part is that can read in two ways:
1. Get! … and now you are Together!
2. Your future wifey and you can pick a ring together.
it is definitely not about design, but about a message.
Again… sell emotion. ONLY and always!
OPEL – bad driver
Amazing ad, when you drive an type, you are both – bad driver and bad in writing.
In the billboard you can clearly see that you are really bad at typing… imagine how bad you are at driving.
Drive safe. Volkswagen.
Another good example of ad stated for safety while driving and texting.
Volkswagen precision parking.
Can fell along with goldfish? : ) Yes, the one from behind : )
Big eyes, hold breath… relax, Precision parking from Volkswagen.
Carnival cruise
Perfect idea for huge stairs, even if you climb up, you could use a tube in Bahamas for same road.
Btw, Fire escape stairs is not a part of ad, it is original stairs, but they did changed color to match a whole picture.
WeightWatchers
The ad shows two doors with different scales. One is quite wide while the other is a very narrow door. On the wide door is the label "entrance" while the narrow door has "exit" on it.
WWF – horrifying
IT is really horrifying if there is a shark.
But it is definitely more horrifying if there are no sharks…
Touching! Brilliant!
WWF – who's gonna win?
All clear from the visual message.
Who's gonna win? And it is Your move.
Zoo Safari
Blend in an ad by ZOO Safari became viral with this picture.
MEssage can be read as You can blend in with nature in ZOO SAFARI.
And finaly: AUDI, SUBARU, BMW … Bentley